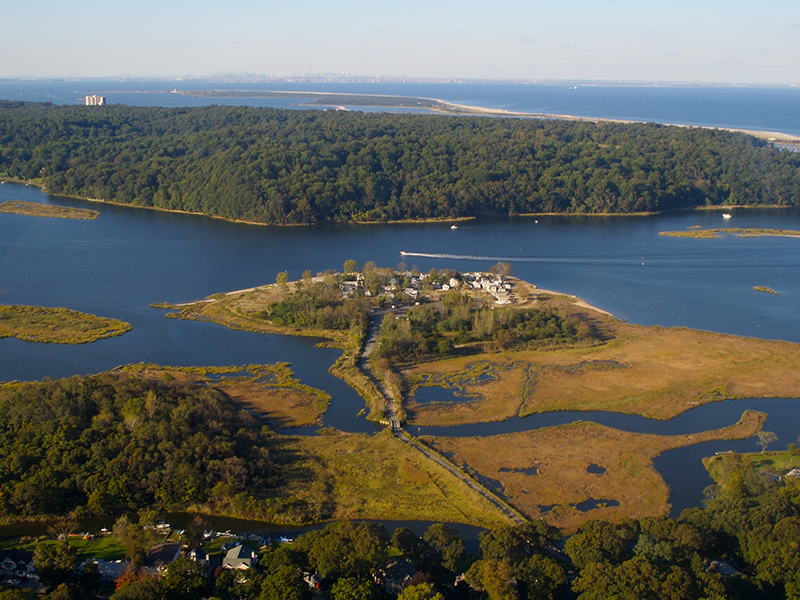 Fair Haven is a veritable escape from the bustle of modern city life. Situated at the northeastern corner of Monmouth County, New Jersey, this 1.7-square-mile borough has a little over 6,000 residents but draws in thousands more tourists every year. 
Endowed with a verdant landscape plus an ideal location that is close to the ocean and with a picturesque riverfront, it's no surprise why more people are finding their way — and staying permanently — to this charming locale. 
If you've yet to drop by Fair Haven, you're missing out on one of New Jersey's best-kept secrets. Below are some of the best things to do while you and the family are in town. 
Book a river cruise

Early settlers in Fair Haven carved out the first few permanent dwellings in 1816 by the Navesink River. The river not only helped facilitate trade and commerce, it also paved the way for numerous visitors— wealthy summer vacationers and vaudeville performers— to visit the area for the first time. 

Today, yacht owners, boating enthusiasts, and weekend family gatherings by the riverbank help keep the sailing culture alive. There's a handful of marinas and boat clubs in town you can check out if you're interested in exploring more of the scenic Navesink. 

Fair Haven Yacht Works is a full-service marina where you can dock your boat and embark on a pleasure cruise with friends and family. An on-site service team is available to help maintain and repair your vessel.
Shrewsbury River Yacht Club is one of the few boat clubs in the area registered in the National Register of Historic Places. Originally named the Players Club, it dates back to 1910 and was founded by vaudevillians. Seasonal boat rentals are available for members. 

Discover fantastic beaches

Fair Haven is just a few miles from the ocean. It takes less than 10 minutes to reach Sea Bright, the nearest jump-off point to the rest of the Northern Shore. There are plenty of beachside attractions you'll encounter along this scenic stretch.

Sea Bright Beach is located in the borough of Sea Bright. The eponymous beach is a favorite spot for many nearby residents looking for a relaxing weekend and captivating oceanfront views. Several Fair Haven residents are members of private beach clubs in the area. 
Further up north is Sandy Hook Beach, South Beach, and New Jersey Beach — the handful of beaches on the New Jersey side that are part of the 27,000-acre Gateway National Recreation Area.

Explore parks and green spaces 

Whether you're simply getting some fresh outdoor air or working out a sweat, there are plenty of parks in and around Fair Haven. Here are some of them: 

Fair Haven Fields Natural Area. This tranquil natural preserve encompasses about 40 acres. Go for a run along the trails, play tennis, watch a baseball or soccer match, or bring the kids to the playground area.
Harding Bird Sanctuary. The densely-wooded Harding Bird Sanctuary is where you'll find several species of indigenous birds and small woodland animals. The land where it sits on was donated by the Harding Family in 1950.
Meadow Ridge Park. Just right across Fair Haven Fields Natural Area in neighboring Rumson, this park's 0.9-mile trail loop is frequented by avid runners and walkers. There are 23 acres to this park and includes several sports fields as well as outdoor exercise areas and equipment.
Hartshorne Woods Park. Heavily forested and dotted with a few WWII-era bunkers and gun batteries, Hartshorne Woods Park is a popular recreational area along the mouth of Navesink River. You'll have access to over 790 acres of protected green space filled with cross country ski trails, fishing spots, biking and horseback riding trails. Hartshorne Woods Park is in Middletown, approximately 7.5 miles or 15 minutes away from Fair Haven.
Huber Woods Park. This vast 360-acre park is located across the river, in the nearby community of Locust. The park features multi-use trail paths, verdant meadows and several patches of forest. Huber Woods Park was established in 1974 after the Huber Family and J.M. Huber Corporation donated an initial 118 acres of land.

Play a game of golf

Whether you're trying out a new sport or looking to polish your swing, there are several golf courses you can check out near Fair Haven. 

The 100-year old Rumson Country Club, which is only less than 10 minutes away from Fair Haven, is home to an impeccably maintained 18-hole golf course, croquet field, and tennis courts. Situated along the Shrewsbury River, this premier country club also has a 30+ slip marina where members can dock their boats. Amenities and facilities have been thoughtfully maintained through the years (most recently, the decades-old Riverhouse was renovated). All in all, Rumson Country Club is an excellent course for golfers of varying skill levels.
Navesink Country Club in Red Bank offers private access to a top-notch golf course just a few paces away from the scenic Navesink River.  A stately clubhouse sits on the highest point of the 115-acre grounds. Since opening its doors in 1911, this distinguished country club is noted for its family-friendly environment and excellent roster of amenities and practice facilities. Apart from golf, members enjoy racquet sports, ice hockey and skating, casual dining, and various social events. Navesink Country Club is about 4.5 miles or 10 minutes away from Fair Haven.

Get active, visit local gyms in Fair Haven

Whatever workout you enjoy doing, there are plenty of ways to break a sweat in Fair Haven. Here are a few activities you should consider trying out: 

Explore the local restaurant scene

With so many things to do in Fair Haven, it's easy to work up an appetite. Grab a bite to eat in any of these excellent local restaurants and cafés.

Lupo Pizzeria Fair Haven. This family-owned restaurant serves up some of the best pizzas in town. Whether it's the Detroit-style pizza, the classic New York variety, or the nutella calzone for dessert, every piece is worth it.
Nauvoo Grill Club. Bask in an upscale and welcoming atmosphere at Nauvoo, known for its distinct ski lodge vibe and top-tier filet mignon and NY strip steak . Guests can also reserve the place for wedding receptions and other private events.
Over Easy Kitchen. This New Jersey restaurant is perfect for breakfast and brunch lovers. Crowd favorites include the Fancy Burrata (poached eggs, burrata cheese over arugula, tomatoes, onions, and grilled sourdough bread) and Protein Breffy (grilled marinated chicken surrounded by eggs, spinach, sliced avocado, and multi-grain toast).
Sansu Japanese Steakhouse. This no-frills local restaurant is a go-to for those craving for some delectable sushi rolls and an assortment of hibachi-grilled meats. 
Dos Banditos. Popular Mexican dishes at great price points can be had at Dos Banditos. Some of their best sellers include the chicken tinga quesadilla, carnitas tacos, and pozole soup.
Raven & The Peach. For an exquisite fine dining experience with a date or a lavish celebration with family, make a reservation at this posh steakhouse. They are open for lunch and dinner services, as well as intimate events and gatherings.
Booskerdoo Coffee & Baking Co. Fair Haven. Not only is this café known for its great coffee and cozy ambiance, their breakfast sandwiches and pastries are also worth the visit.
Tavolo Pronto. Customers frequent this little Italian-inspired bistro and cafe for long conversations over coffee and their excellent selection of wraps, paninis, and salads.

Visit historical and cultural attractions

There are a handful of cultural and historical attractions that are just a short drive away from Fair Haven. Consider paying a visit to:

Check out Jon Bon Jovi's High Point Estate across the river

Speaking of Bon Jovi, the world-famous lead singer and frontman, Jon Bon Jovi onced owned a megamansion in Middletown Township, located just across Fair Haven. 

Designed by legendary architect Robert A.M. Stern (who also designed many sought-after Manhattan enclaves), the French chateau-inspired main house sits on a 15-acre property. Within its vast 18,000-square-foot living space are six bedrooms, seven full bathrooms, and two half-baths. The home is surrounded by verdant gardens and courtyards and has about 700 feet of Navesink River frontage. 

The property was reportedly up for sale as early as 2017. In 2021, it reached a price point of a whopping $20 million.
WHAT'S IT LIKE TO LIVE IN FAIR HAVEN, NJ?
Fair Haven is a small-town paradise by the water. Dotted with historic properties and surrounded by nature, the borough feels lived-in and serene. Wide tree-lined streets weave their way throughout town, making it ideal for those who value living in a pedestrian-friendly neighborhood. Though it receives a fair number of seasonal visitors yearly, the town never feels like a packed tourist destination. 
Newer residents have been flocking to Fair Haven for its beautiful waterfront and convenient access to both New York City and a wide variety of outdoor attractions. It's especially popular for families looking to raise kids in a welcoming environment where there's plenty of good schools and space to stretch out. People often walk or cycle to where they need to be, especially students in the neighborhood. Traffic is stopped multiple times throughout the week to accommodate daily commuters. 
In terms of real estate, there's a wide range of options. You'll find modest ranch and Colonial homes to historic cottages (some dating to the 19th century) and elegant riverfront estates. To further diversify the market, there are quite a few older houses that have been updated or completely torn down to make way for a larger abode. Home prices usually range from $700,000 to over $4.5 million or more.
Explore more of Fair Haven, NJ with Mario Venancio
If you wish to learn more about Fair Haven, get in touch with the #1 Real Estate Agent in Monmouth County for the last 11 years. Mario Venancio is a seasoned agent who has assisted countless buyers and sellers throughout his 30 years in the industry. He is a highly skilled negotiator and a knowledgeable guide who ensures his clients make the most financially savvy decisions.
Working with Berkshire Hathaway HomeServices Fox & Roach, Mario also provides clients with access to a vast network of resources that can help close the deal in a timely fashion.
Whether you're interested in finding out about things to do in Fair Haven or looking for your next home, Mario Venancio is prepared to make your real estate journey a pleasant one. 
You can also reach out to Mario if you're exploring other areas in Monmouth County such as Rumson and Little River. To book a private real estate consultation, you may reach out by phone at 732.881.4306 or send an email.